It's a strange thing. I'm working on a Master's degree at
Capella
University
. After I finish this class, I'm two classes away from finishing. (I'm burnt out! I want it over!) Like I said, it's a strange thing. I've found that when I have a paper or project due, I sweat and fret; do more research, then sweat and fret again. This usually happens over several days. Finally I kick out a decent paper in an hour or two. I think that my mind has learned to refuse to produce until the junk I've collected percolates in my brain a while and then when it's ready (usually just before a deadline) it slips into output mode and out pours the paper!
Last Friday, I had a kid tell me to shut-up. My immediate reaction was to grab him by his jacket and tell him not to ever speak to me that way. Now a week later, the story is that I picked him up and spun him around my head! When the kids ask me if that is true, I just smile and flex my "incredible" muscles. Rumors, aren't they great?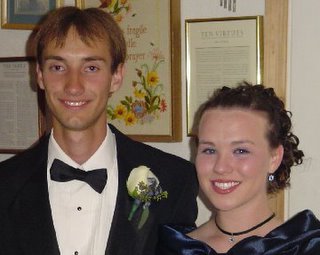 Wednesday, the 1st of February I put my youngest in the MTC (LDS Mission Training Center). Charlie's going to Viña Del Mar, Chile on a mission for the Church of Jesus Christ of Latter Day Saints. It was hard to let him go, though I've done it four times now. (My first son went to Islas de Gran Canaria (Canary Islands), my second son went to Orsorno, Chile, and my third went to Argentina. Everyone in my family except my daughter and me speaks Spanish—well Charlie's still learning but he will be—so it's interesting around here, especially since there are four different dialects, between my sons and my wife who was born in Mexico.) I guess he's a little harder to let go because he's my last one.
Richard's main page