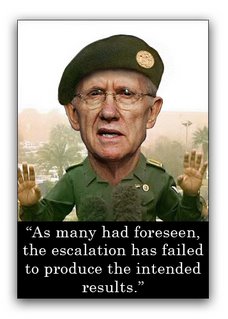 http://hughhewitt.townhall.com/
has a wonderful Harry Reid picture. Enjoy the picture then check out the site. It's great!
Also, I found a great piece by Ted Nugent at
Opinion Journal
. Having lived through the sixties myself and embraced the soul stealing sex and drugs lifestyle for a (thankfully) short time, I can agree with Nugent whole-heartedly!
The Summer of Drugs
Forty years ago, dirty, stinky hippies converged on San Francisco to "turn on, tune in and drop out."
BY TED NUGENT
Wednesday, July 4, 2007 12:01 a.m. EDT
This summer marks the 40th anniversary of the so-called Summer of Love. Honest and intelligent people will remember it for what it really was: the Summer of Drugs.
Forty years ago hordes of stoned, dirty, stinky hippies converged on San Francisco to "turn on, tune in, and drop out," which was the calling card of LSD proponent Timothy Leary. Turned off by the work ethic and productive American Dream values of their parents, hippies instead opted for a cowardly, irresponsible lifestyle of random sex, life-destroying drugs and mostly soulless rock music that flourished in San Francisco.
The Summer of Drugs climaxed with the Monterey Pop Festival which included some truly virtuoso musical talents such as Jimi Hendrix and Janis Joplin, both of whom would be dead a couple of years later due to drug abuse. Other musical geniuses such as Jim Morrison and Mama Cass would also be dead due to drugs within a few short years. The bodies of chemical-infested, brain-dead liberal deniers continue to stack up like cordwood.
As a diehard musician, I terribly miss these very talented people who squandered God's gifts in favor of poison and the joke of hipness. I often wonder what musical peaks they could have climbed had they not gagged to death on their own vomit. Their choice of dope over quality of life, musical talent and meaningful relationships with loved ones can only be categorized as despicably selfish.
I literally had to step over stoned, drooling fans, band mates, concert promoters and staff to pursue my musical American Dream throughout the 1960s and 1970s. I flushed more dope and cocaine down backstage toilets than I care to remember. In utter frustration I was even forced to punch my way through violent dopers on occasion. So much for peace and love. The DEA should make me an honorary officer.
See the rest
here
.
I didn't listen to Cat Stevens in the sixties, but I did listen in the early seventies. I wish I could rip his songs out of my ears as if I'd never heard them. This guy is scum.
Extremist Muslim Cat Stevens/Yusuf Islam & His Extremist Muslim Family
I don't get it. Why does any European or American embrace Islam? Well, I can understand a male chauvinist pig (the real ones--not the ones given that label by feminazis) doing it, but why would any woman embrace such a religion?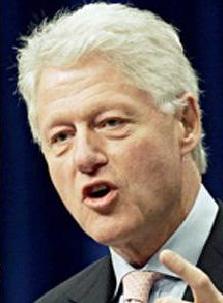 And of course, how do you spell chutzpah? I spell it B i l l C l i n t o n... How dare that hypocrite complain about any Bush pardon? This sleaze-bag did it for money!
And check this out!
Even independent-minded celebrities are now questioning the establishment media orthodoxy that the debate over global warming and its effects are all but over. In a phrase familiar to those who study pop culture, it appears that the global warming scare may have "jumped the shark."
And finally, on the global warming front, apparently the earth has been much warmer in the past, and the glaciers didn't melt, the seas didn't inundate the land and we didn't roast! From
Brietbart.com
:
Oldest DNA ever recovered shows warmer planet: report
Jul 5 03:14 PM US/Eastern







Scientists who probed two kilometers (1.2 miles) through a Greenland glacier to recover the oldest plant DNA on record said Thursday the planet was far warmer hundreds of thousands of years ago than is generally believed.

DNA of trees, plants and insects including butterflies and spiders from beneath the southern Greenland glacier was estimated to date to 450,000 to 900,000 years ago, according to the remnants retrieved from this long-vanished boreal forest.

That contrasts sharply with the prevailing view that a lush forest of this kind could only have existed in Greenland as recently as 2.4 million years ago, according to a summary of the study, which is published Thursday in the journal Science.

The samples suggest the temperature probably reached 10 degrees C (50 degrees Fahrenheit) in the summer and -17 C (1 F) in the winter. more

Richard's main page